French Department :

01 - Ain




You must visit this castle with

a beautiful concerto of Bach

The castle :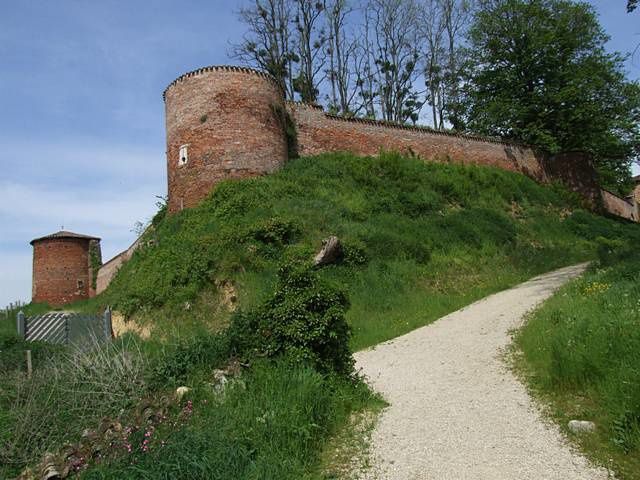 Situation :
Châtillon sur Chalaronne is a city located at 24km in the South-West of Bourg en Bresse and at 20km in the North-East of Villefranche sur Saône.
Description of the castle :
As much of fortifications of the Middle Ages, the castle of Châtillon is posed on a small hill, but with all trees, it is hidden.
Outside
The first pleasure with a ruined fortification is to see the outside and the hight wall. The general form is a quadrangular curtain protected on the angles by rounded towers.
All wall have some rounded tower. There are a lot of openings on wall for bow and gun.
Have you seen the red bricks ? For a French-knight who lives in Mountain, the color is not "normal", grey ou white stone is the color of "my" Alpine castle.
At the end of 12th century, all square turns had been replaced by a rounded tower, Imagine my surprise I see this. Why the Count of Savoy had leaved this ?

The only explanation is that this tower had another function.... But which?
I walk, I walk, I walk... But where is the main door ?
Here it is, with its semicircular arch. After the destruction of the castle at the 16th century, carries, bridge, harrow, defense disappeared and it is only the phantom of the entry which awaits me.
Inside
While entering, it is the shock !
Absolutely............ Look at the large green space.

.... For a medieval castle, it is a large fortification !
With the heat day of spring, the shade of trees is good to dream..... Imagine : Soldiers, Count of Savoy, horses etc...


History of the castle:
During Ist century before JC, Romans builds a Castillo on the hill.
At the 11th century, a castle is quoted in a text built by a lord of Châtillon.
In 1272, Sibille de Bâgé married with the Count Philippe Ist. Chalaronne becomes Savoy. This castle is the first guard of the new County.
During the 13th century, this castle become one of the Count residences.
In the middle of the 14th century, Amédé VI, also appointed "the Count Vert", give sumptuous festivals in this castle.
At the end of the 16th century, the kingdom of France of Henri IV (see list of the kings) is in war against Savoy. The castle is shaved by the troops of the Duke of Biron.
In 1927, part of the castle is registered in the Database of Historic Buildings.
At the end of the 20st century, the ruined castle is consolidated and arrange for some medieval demonstrations during summer.
At the 21st century, the visit of the castle is free except when there are some estival historical demonstrations.